Application NOW OPEN!!! If you delay your application you will miss out on this opportunity to be a part of the 24th Leadership Belleville Class.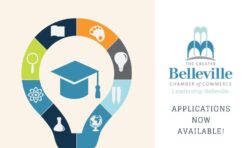 What is Leadership Belleville?
Leadership Belleville is a unique training program offered to community members and chamber members, coordinated through the Greater Belleville Chamber of Commerce.
The goals of the program are to…
Develop effective community leaders
Establish valuable relationships with business and civic leaders
Expand awareness and understanding of important issues affecting business and the community
Foster a commitment to personal, professional, and community growth
Provide opportunities for ongoing business development, growth, and expansion within the Belleville area.
Each Leadership Belleville class is composed of up to 25 professionals who demonstrate the highest leadership qualities. These classmates create a valuable network of resources – paying dividends to both alumni and their business sponsors.
Below you will find a link to the Leadership Belleville page and the Application to be a part of this unique opportunity. Now more than ever do we all need to refresh and recharge our Leadership skills and learn from others in our community on how to overcome obstacles and prepare ourselves to face unpredictable futures.
All applications are due July 28, 2023, and a Kick-off Breakfast will be held on August 18, 2023.
You can find out more information on our Leadership Belleville page.