Leadership Belleville
Leadership Belleville is a unique training program offered to community members and chamber members, coordinated through the Greater Belleville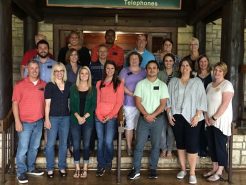 Chamber of Commerce.
The goals of the program are to…
Develop effective community leaders
Establish valuable relationships with business and civic leaders
Expand awareness and understanding of important issues affecting business and the community
Foster a commitment to personal, professional and community growth
Provide opportunities for on-going business development, growth and expansion within the Belleville area.
Each Leadership Belleville class is composed of up to 25 professionals who demonstrate the highest leadership qualities. These classmates create a valuable network of resources – paying dividends to both alumni and their business sponsors.
Selection Criteria
Application for the program may be made by the individual or the employer. All leadership candidates chosen to participate in the program by the selection committee will possess the following characteristics.
A demonstrated leadership ability
A demonstrated ability to reach personal goals
A demonstrated commitment to the Greater Belleville area
Be able and willing to commit to attendance at:

A two-day overnight retreat in September focusing on Leadership and Team Building skills
Eight full-day sessions – one Friday each month concluding with a graduation ceremony in May
Assignments to be completed outside of the scheduled course sessions

The Program
The program begins with a kick-off breakfast in August where participants have the opportunity to meet Leadership Belleville alumni. In September, all participants attend a two-day overnight retreat to focus on team building, leadership and communications skills. The retreat provides the participants with the opportunity to bond and develop significant relationships that will be useful in their professional, civic and personal endeavors.
The nine-month program dedicates one day each month to a specific issue or subject pertaining to the Belleville area, such as history, arts, religion, government, business and industry, education, healthcare, community and aging, economic development, law enforcement and justice. Participants will be given the chance to meet and engage a large number of business, community and political leaders during each session.
In May a graduation dinner is held. Participants must meet certain criteria to graduate and join the prestigious Leadership Belleville Alumni Association.

Course Schedule

Dates are set, overviews are samples
Two-Day Overnight Retreat: Leadership and Team Building
September 5 & 6, 2019
Spend two days exploring effective personal leadership skills. Acquire powerful tools to meet the day-to-day demands of a leader, which will be explored in each monthly session.
Education Day
October 18, 2019
Participants will hear from a panel of educators regarding the educational system in Belleville and current key issues. The day also includes a tour of one of the elementary schools and high schools and hearing from local students.
Law Enforcement Day
November 22, 2019
Participants will be given an overview of the city and county law enforcement agencies serving the Belleville area.  The session will include a tour of the St. Clair County Jail as well as a K-9 demonstration.  Participants will also learn more about our judicial system and participate in a panel discussion with local attorneys.
Business Day
December 13, 2019
This session will explore the current business mix in our area and inform participants of key local businesses and the issues they face. An understanding of past and present challenges and business trends in Belleville will be gained. An insider's tour of several prominent Belleville business facilities will be included.
Healthcare, Aging & Community Services Day
January 17, 2020
Participants will appreciate an opportunity for a behind-the-scenes tour of one of Belleville's hospitals. Current and future trends of healthcare and aging will be explored as they relate to leadership roles in our community.  Participants will learn what our community needs to do to prepare for the exploding aging population and what services are currently being offered.
Government Day & Mini Retreat
February 21, 2020
Interact with state, county and city government officials to gain an in-depth understanding of the current issues facing our leaders and our community.  Also included is a tour of the St. Clair County building.
History, Culture & Religion Day
March 20, 2020
Learn about the history of Belleville while touring the Labor & Industry Museum, the Emma Kunz House, and the Historic District.  Also, learn more about the cultural aspect of Belleville, specifically the Belleville Philharmonic and Art on the Square. Gain an understanding of the diverse religious organizations in our community and their current issues and challenges.
Regional Growth Day
April 17, 2020
Participants will gain an understanding of the key challenges and goals for the economic development of the community.The day includes a tour of Scott Air Force Base, which contributes greatly to our local economy.
Reflection Day & Graduation
May 1, 2020
Participants will give a presentation reflecting on what they have learned over the past 9 months. A graduation dinner will be held in the evening for all participants, their guests, employers, and alumni.
Due to the 2020 pandemic, there will not be a new class for 2020-2021. Please check back in spring 2021 for applications for our next class!