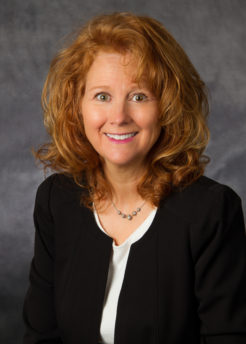 On Tuesday, December 20, 2022 the Chamber membership elected Mary Lamie to serve as the Chairperson of the Greater Belleville Chamber of Commerce Board of Directors.
Mary Lamie is the Executive Vice President of Multi Modal Enterprises for Bi-State Development. In her role, she oversees a number of business enterprises of Bi-State Development, including the Gateway Arch and Riverboats, the St. Louis Downtown Airport, and the St. Louis Regional Freightway.
Her responsibilities of the Freightway include developing public-private partnerships to optimize the region's freight transportation network and for creating the foundation for planning, marketing and advocacy of the bi-state region as a national freight hub. These efforts have resulted in national recognition by the U.S. Department of Transportation as a leader in setting multimodal transportation priorities and as a model for regionalism for both this area and regions throughout the nation. The Freightway demonstrates how working collaboratively across sectors can foster an effective approach to regional freight investments and decision-making. Through these efforts, the region has increased its competitiveness for funding and other resources, benefitting national and regional freight mobility and economic development.
Mary has over 30 years of experience in the transportation industry, including 23 years at the Illinois Department of Transportation where she served as Deputy Director of Highways Region 5 Engineer. During this time she was responsible for the development and implementation of the Region's transportation program which included engineering, management and budgetary responsibilities. She was responsible for more than 800 employees, 3,300 lane miles of state highways and 1,700 bridges.
She holds a Master's Degree in Civil Engineering from Missouri University of Science and Technology, a Bachelor's Degree in Civil Engineering from the University of Missouri – Columbia, and is a professional engineer.