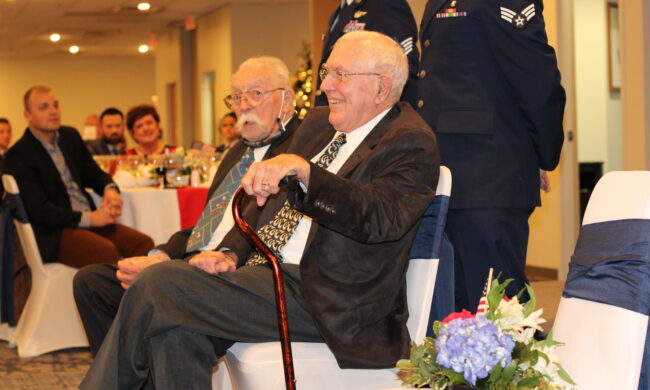 After having to cancel the 70th Annual Enlisted Dinner the day of the event in March of 2020 as the pandemic started, the Greater Belleville Chamber of Commerce's Belle-Scott Committee was finally able to host their 70th Enlisted Dinner on Thursday, November 18 at The Shrine Banquet Center to honor the enlisted men and women of Scott Air Force Base and thank them for their bravery, commitment, and sacrifice to our nation. This is an annual, sold-out event that reminds the community each year of the important role Scott Air Force Base plays in the metro-east.
"The Enlisted Dinner is Belleville's opportunity to show our deep appreciation to Scott's enlisted members for their service and sacrifice," said Geri Boyer, the Belle-Scott Committee Civilian Chairman. "It is also our chance to honor a few local veterans and tell their stories of bravery and remarkable resilience."
The Belle-Scott Committee, once known as "The Belleville Plan", has been in existence since 1950 working to promote good relations between Belleville and Scott Air Force Base. The plan was announced at the First G.I. Pal Dinner (later known as the Belle-Scott Enlisted Dinner) which was held November 29, 1950, at the U.S.O. Canteen in Belleville.
"The Belle-Scott Committee was established in 1950 to promote a positive relationship between the local business community and the Base," said Boyer. "Belle-Scott was formed because this was not always the case. Many veterans we have honored tell us that only recently have they been thanked for their service. We want the members of the military and veterans of our community to know how much we cherish and value their sacrifice and service and this dinner gives Belleville an opportunity to do that in a very personal way."
The dinner included remarks from Rick Vernier (St. Clair County), Mayor Patty Gregory (City of Belleville), and Col. Rob Lowe III (375th Air Mobility Wing). A special response was also given by A1C Ethan Moser.
During the event, three U.S. war veterans were also honored as special guests including Robert Elder (Navy, recently deceased), Leroy "Wes" Scheller (Air Force, 92, Belleville, IL), and Don Jerome (Army, 86, Belleville, IL). Terry Foerste, a Belle-Scott committee member and fellow Vietnam veteran, also received the Golden Eagle award. He assists the committee doing interviews with veterans and composes biographies of the honorees that he then presents during the event.
"The stories of all veterans are eventually going to disappear. I think it's important that we record their stories when we can."

Terry Foerste