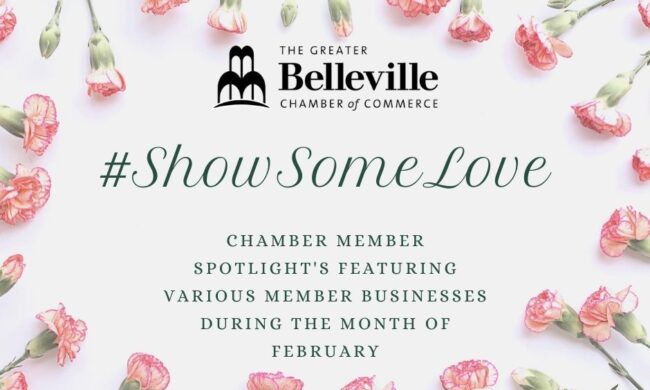 We launched our #ShowSomeLove Business Spotlight on Facebook at the beginning of February where we are featuring various Chamber members every weekday and encourage the public to help show some love to these businesses that keep our community alive.
If you have used and loved any of their services, we invite you to #ShowSomeLove by following them on Facebook and/or leave them a positive review on Google or their Facebook page!
Week 2:
Day 6: Schaefer Autobody Centers
Day 7: Logan & Logan LLC Management & Accounting Services
Day 8: Egyptian Workspace Partners
Day 9: Scott Credit Union
Day 10: Hospice of Southern Illinois, Inc.
Week 1:
Day 1: Refresh. Recharge. Relax.
Day 2: National Shrine of Our Lady of the Snows
Day 3: Eye on Design Window Treatment & More
Day 4: Abe's Gourmet Popcorn Shop & Sugar High
Day 5: Tactical Towing & Recovery, Inc.


You can also check out Belleville Main Street's Facebook page where they have been highlighting specials and fun stuff going on with Main Street businesses!
*If you are a Belleville Chamber business and would like us to feature your business, please contact us at marketing@bellevillechamber.org.