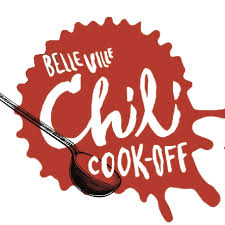 Each year, the Greater Belleville Chamber of Commerce hosts one of Belleville's premier fall festivals, the Belleville Chili Cook-off. The annual event was scheduled this year for October 9 & 10, but given the current COVID-19 pandemic and guidance given from the State of Illinois and the Illinois Department of Public Health, the Chamber is disappointed to announce that they will have to cancel the 2020 Chili Cook-off.
"This event is a fall family favorite event," says President and CEO of the Greater Belleville Chamber of Commerce, Wendy Pfeil. "We wish we were not making this announcement but the health and safety of our community is our top priority."
Many people attend the Chili Cook-off to enjoy great chili, entertainment, and other festivities, but most don't realize that it's the biggest fundraiser of the year for many non-profit organizations, including the Greater Belleville Chamber of Commerce themselves. Over half of the vendors participating at the Chili Cook-off each year are either a non-profit organization or a business raising money for a charity. 100% of the money spent at each booth would go to that vendor. In addition, attendees would vote in the People's Choice contest for their favorite chili where 100% of the proceeds would be donated to the Community Interfaith Food Pantry in Belleville.
"While this is a huge disappointment, we are still looking into ways to help promote all groups involved virtually," states Pfeil. "The public is encouraged to follow the Belleville Chili Cook-off on Facebook to see this and other potential surprises as we move into the fall."
The Chamber does plan to go ahead with the annual Chili Chase 5k that normally happens the Saturday morning of the festival, however, it will be virtual. Attendees can find out more online at www.bellevillechili.com or follow their Facebook page at www.facebook.com/BellevilleChiliCookoff.
The Chamber does plan to have the Chili Cook-off back next year and looks forward to seeing everyone in person on October 8 & 9, 2021.
The Greater Belleville Chamber of Commerce is a 501(c)6 nonprofit, membership-based organization that supports and advances business and community interests, as well as the quality of life in Belleville and surrounding communities. They were ranked the fourth largest chamber in the St. Louis area in 2019 by the St. Louis Business Journal and are the largest chamber in southern Illinois south of Springfield. To learn more about the Greater Belleville Chamber of Commerce, please visit their website at www.bellevillechamber.org.