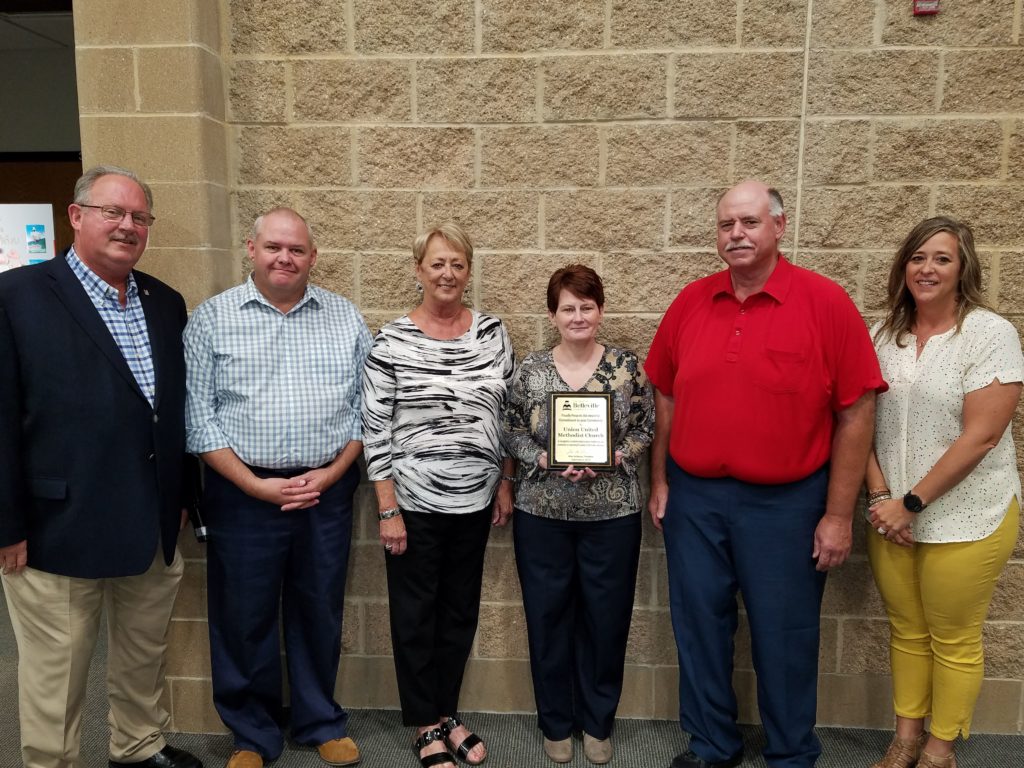 The Commitment to Community Award is presented quarterly to a Chamber Member who demonstrates a commitment to improving the quality of life for residents and/or businesses in the greater Belleville area. The Ambassadors are honored to present this quarter's award to Union United Methodist Church.
Union United Methodist Church acquired its name from the union of two downtown churches in 1950, but its heritage extends back to 1819, just five years after the founding of Belleville. Dissatisfied with the state of Methodism in Belleville in 1950, the congregations of First Methodist Church and Jackson Street Methodist Church, both located within sight of the public square, resolved to unite to create a larger organization that would more effectively serve the community.
Though located in downtown Belleville and serving that community, the vision of the church is broader. Union United Methodist Church is a downtown church whose message of hope and vision of service are not bound by geographical limits.
In 1951, one of its first mission projects was the "boys at Scott" Air Force Base. The church sponsored devotional and recreational opportunities for Airmen at the church and other locations. Union has sponsored missionaries around the world.
Since 1993, church youth have traveled annually on mission trips to destitute communities to rehabilitate houses and perform other community projects, mitigating dire circumstances and lifting spirits. By 2009, the youth had made mission trips to 14 states and Puerto Rico.
In 2007, UUMC entered into an arrangement with the small United Methodist Church in New Athens, Illinois, that made the resources of the Belleville church available to a congregation in a small town. The same year Union began satellite church services in Freeburg to reestablish a United Methodist presence in that area of St. Clair County.
In 2008, Union funded part of the construction of New Hope United Methodist Church in Monrovia, Liberia, as well as purchase of land for future expansion.
Today, the church offers a variety of ministries and missions including their tradition services, Crosswalk Contemporary Service, and a wide range of Christian education classes, music and drama opportunities for all ages, various life groups and more. Outside of the ministry, UUMC also sponsors multiple community runs including the Tour de Belleville. They provide space for a variety of community organizations and their meetings including an AA group, an Al-Anon group and a GA group. United also helps provide over 200 free sack lunches weekly and provides assistance to homeless in the area through the church and community food pantries.
Union United Methodist Church is also a long time member and supporter of the Greater Belleville Chamber of Commerce. They are gracious hosts of the annual Lucky Leprechaun 5K and have hosted various events for the Chamber over the years.
The Greater Belleville Chamber of Commerce and our Ambassadors are proud to honor Union United Methodist Church with this quarter's Commitment to Community Award.