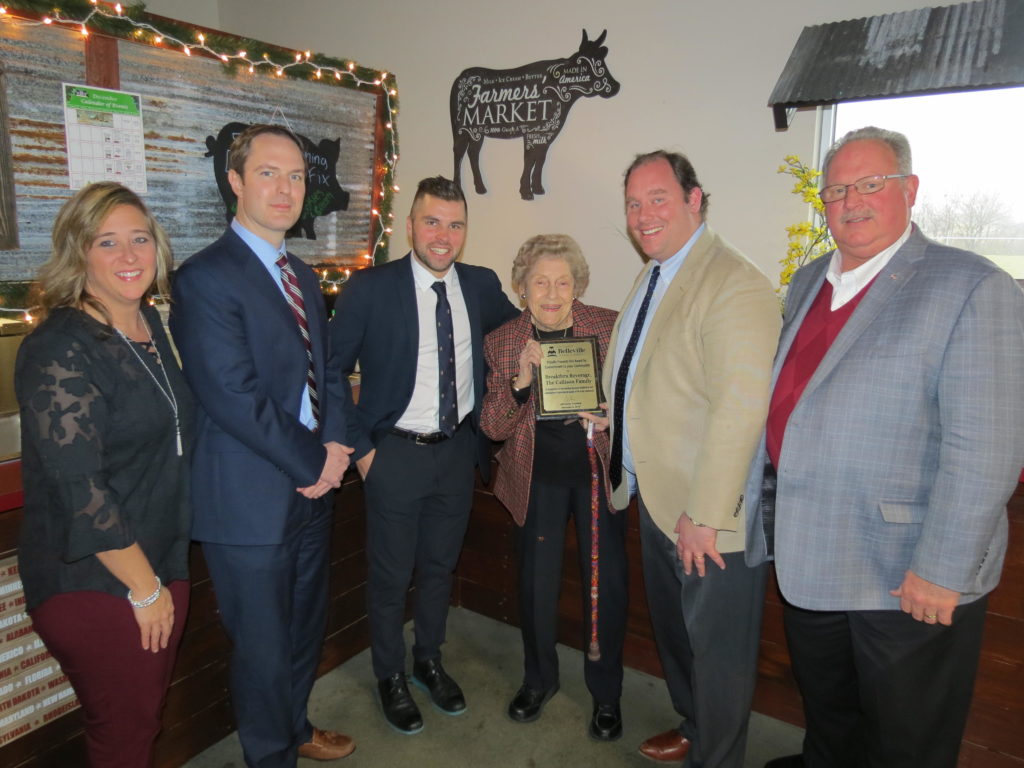 The Commitment to Community Award is presented quarterly to a Chamber Member who demonstrates a commitment to improving the quality of life for residents and/or businesses in the greater Belleville area. The Ambassadors are honored to present this quarter's award to The Callison Family with Breakthru Beverage.
Breakthru Beverage Belleville is a wholesale wine and spirits distributor that serves the southern half of Illinois and is focused on the Metro East. Their main office is located in Belleville in the Belle Valley Industrial Park.
Breakthru Belleville was originally started in 1933 in East St. Louis by an independent entrepreneur named Ed Pohlman. Olin Callison joined the distributorship as the General Manager in 1934 and purchased the business from Ed Pohlman's widow in 1947. In 1954 and 1956, Olin's two son's (Bill and Ed Callison respectively) joined the business with their father. In 1967, Olin Callison passed away and Ed Callison took over as President of Callison Wholesale Liquor.
In the face of rapid expansion and brand acquisition, Callison Liquor moved from its original location at 10th and Missouri in East St. Louis and built a new warehouse located at 4 Premier Drive in Belleville. Ed and his brother, Bill, wanted to plan for the future and built a warehouse five-times larger than what they needed.
In 1982, Ed's son, Ed Callison Jr, joined the family business after working for a large commercial bank in Atlanta and attending graduate business school at Washington University in St. Louis. Ed Callison, Jr. was named Vice President of Sales of Callison Liquor, a role he held for 15 years. Between the time of Olin's passing and 1992, sales for Callison Liquor grew by a multiple of 10 equating to 10% sales growth per year over 25 years. In 1993, in the face of wholesaler consolidation in the state of Illinois, Callison Liquor partnered with the Wirtz Family from Chicago to form Callison Distributing, LLC. At that time, Ed Callison Jr. was named the Managing Partner of the Joint Venture and the Callisons continued to have ownership and run the Southern Illinois Operation for Wirtz Beverage south of Springfield.
In 2003, Ed Callison moved to Chicago to manage the Total Illinois Beverage Business for the Wirtz Family and Andy Karr, formerly the Callison Distributing Sales Manager, took over the joint venture as the General Manager.
In 2011, after having received his MBA from Notre Dame and working for E&J Gallo Winery in California in their International Finance division, Hamilton Callison, Ed's Son, returned as Director of Operations and Finance.
In 2016, Wirtz Beverage merged with the Charmer family from New York City forming Breakthru Beverage. Throughout the merger, the Callisons were grateful to be able to keep their company in Southern Illinois and today still serve as managing partners for the Joint Venture, which is run by Hamilton.
While he is still the managing partner of the Belleville business, Ed also works as the Executive Vice President of Mergers and Acquisitions for the parent company, Breakthru Beverage Group in Chicago, IL.
The Callison Family has been involved with the Belleville community for over 70 years either living or working in the town. Shirley Callison, Ed Senior's wife, Ed Jr's mother and Hamilton's grandmother, used to lead the Woman's Crisis Center in Belleville. She also used to run the gift shop at Memorial Hospital, taught Kindergarten at Signal Hill Grade School and taught Sunday School to adults at Signal Hill Methodist Church for over 40 years.
Breakthru Belleville continues to support the Belleville community where they can. Between working with the Belleville Chamber, the Belle-Scott Committee, Art on the Square, Get to Know ME, the Ancient Order of Hibernians and the St. Clair County Tavern Association, Breakthru Belleville hopes to be an active member of the Belleville Community for many years to come.
The Greater Belleville Chamber of Commerce and our Ambassadors are proud to honor the Callison family with this quarter's Commitment to Community Award.