It's that time of year when everyone is buying presents, baking cookies, and decorating their trees. Or is it?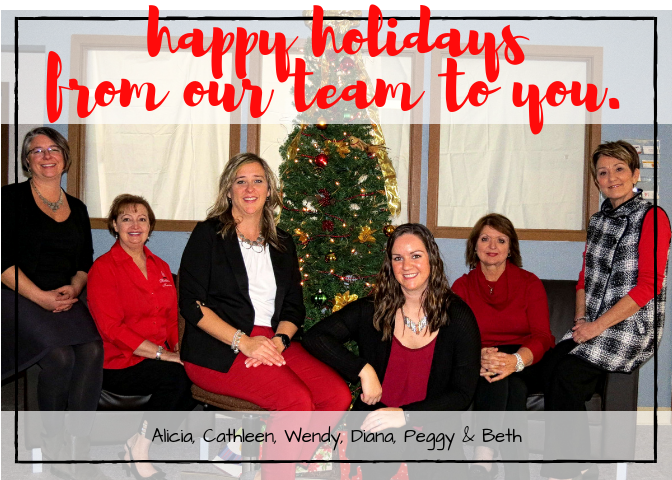 What is your favorite holiday memory?
Wendy Pfeil: My favorite Christmas memory was about 15 years ago. My grandma was entering her last days and family was staying with her around the clock. I had the privilege of staying with her December 23-24 so our usual Christmas Eve tradition would not happen, Church, Chili, gifts, in fact, there was nothing cooked for that evening. The entire family gathered in my Grandma's room Christmas Eve to spend it with her. As my Aunts came in to relieve me, my mom was upset that our tradition would not happen but that lead to one of my favorite memories. As we arrived back at my parent's house, my sister and I began raiding the freezer, there were plenty of appetizers that we could throw together to eat and wine to drink and that's what we did along with talking about our favorite family memories. We laughed, we cried, we enjoyed FAMILY time. After all isn't that what the Christmas is about.
Beth Tucker: Family gatherings full of love, wonderful food that is plentiful, the kids' excitement coupled with the fact that their parents have taught them to be thankful, and the special opportunities to show joyful kindness to those that may not have the blessings we have. Those memories are Christmas to me.
Diana Goebel: Not sure it's my "favorite" but when I was three or four, my older brother put a present for me under the tree from Santa without my parents knowing and when I opened it, it had a bunch of coal in it. I ran crying to my room. It's funny to look back on now but he did just have a baby so I keep teasing him karma will get him sooner or later…
Peggy Schifferdecker: When I was a little girl I always remember that Santa Claus brought the tree. We did not have a tree until we woke up Christmas morning. What excitement with a tree and presents! As I became a parent with kids, I always thought, "How did my parents do that all in one night?" Bring in a "live" tree, decorate and wrap presents. No wonder on Christmas Day my dad was always sleeping in the chair! But we always thought Santa brought the tree when in fact it was our parents. I could never accomplish this for our boys!
Cathleen Lindauer: My favorite holiday memory was watching my dad put out hay for Santa's Reindeer the night before Christmas in hopes that Santa's Sleigh makes a stop at our farmhouse. And sure enough, when we woke by morning, the reindeer had eaten almost all the hay!
Alicia Slocomb: A few years ago, I drove down to Florida to surprise my mother and father for what we all knew was my father's last Christmas. I did not want my son to miss the big gathering of Slocomb's and Buser's here in Belleville, and they understood my need to be with my side of the family. My brother helped orchestrate the surprise and we had a quiet holiday as Chillemi's. The day after Christmas, my husband and son joined us for a full celebration with my family.
What are some of your holiday traditions?
Wendy Pfeil: My favorite Christmas tradition is attending Christmas Eve Candlelight service with my family and then coming home to eat chili followed by opening one gift; Christmas pajamas. Even though we know each year what the gift will be it is one we always looked forward to receiving. This tradition continues today with my own family and I hope it does for generations to come.
Beth Tucker: As a Christian, my first family tradition at Christmas was and continues to be celebrating the birth of our Savior at my church's Candlelight Service on Christmas Eve. Then, my 2 sisters, our husbands, and kids would all go back to Mom & Dad's for our Baby Jesus tradition. The youngest child always placed Baby Jesus in the manger. When we ran out of new little ones we started over, and later, continued with our grandchildren. Years ago, my little nephew, Caleb was so excited to be the one that he made sure everyone knew "I get to put Baby Jesus in his nest!" Thereafter, the manger became the nest.
Diana Goebel: My favorite traditions include going to either the Missouri Botanical Garden or Zoo Christmas Lights every year with my husband, going on our annual family outing day with my parents, brother, and sister-in-law, and my hubby. I also love getting together with my mom's side of the family whom I am very close to but only get to see everyone once or twice a year, and helping my mom decorate the house.
Peggy Schifferdecker: The best tradition in the whole wide world is the Santa House on the Square! Standing in line since our boys' first Christmas to see Santa and get the much sought after snowflake ornament with our boys' picture with Santa. Every year, I go home happily and hang this ornament on the tree. I have a snowflake ornament for every year since 1992! And each year, I send a picture of the Santa house to my guys to say it is that time of year! They say NO at first as they are 26 and 20 years old now, but they always come through for me as I wait patiently for my snowflake ornament. I am hoping this year is the same! The Santa is the best Santa there is!
Cathleen Lindauer: It was also my favorite memory– putting out hay for Santa's Reindeer the night before Christmas in hopes that Santa's Sleigh makes a stop at our farmhouse. When my boys were little, this was a family tradition that I passed onto them as well.
Alicia Slocomb: The Favorite Things gathering where a group of my friends meet at the start of the season to exchange their "favorite things" with each other –and each and every one of the items are given with thought and kind intentions. And then the two days of gathering over the holidays with extended family to eat, drink and be merry! At the end, we always say "we need to do this more often!"