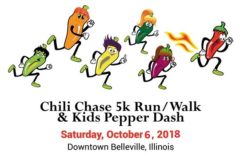 The annual Chili Chase occurs each year alongside the popular Chili Cook off. This year the Chili Chase will occur on October 6th, 2018 @ 9 AM and will take participants through the streets of Historic Downtown Belleville beginning at East Main & Church. Participants will be able to experience the beauty of Belleville as they race against their friends and family for a chance to win a trophy or medal.
The Chili Chase is a perfect time to explore Belleville and share an experience with family and friends. Anyone at any age will enjoy the race and the subsequent chili cook off that night.
Those who register for the 5k prior to September 21, 2018 will be guaranteed a "Chili Chase" T- Shirt. Those interested in registering should click here.
If registering before September 21, 2018; the price for adult tickers is $25 while Youth (16 & under) will be $15. If registered after the 21st of September the price increases to $30 per participant, while any children entering the Kids Pepper Dash (13 & under) would pay $5.