The Greater Belleville Chamber of Commerce recently welcomed two Lindenwood University-Belleville students into their summer Marketing and Public Relations internship program. Both students have worked diligently to showcase their work ethic, drive and talents throughout the past few weeks.
Our first intern, Clayton Nickerson is a third year student at Lindenwood University – Belleville where he is pursuing a degree in Mass Communications with an emphasis in Public Relations and Advertising. He is from Troy, Illinois where he has lived his whole life. Throughout his life Clayton has been an avid football player, eventually playing for the Lindenwood football team. While in college Clayton took up acting and delved deeper into the humanities division. He hopes to one day work for a production company doing PR and marketing.
Our second intern, Roger Blake recently graduated from Lindenwood University – Belleville with a degree in Communications and an emphasis in Public Relations and Advertising.  After graduating he began working at the Hofbrauhaus- St.Louis, where he works as a waiter. In his spare time he enjoys creating YouTube videos, making music and writing poetry. After his internship Roger plans to work in St. Louis for a few years until he can save up to move to California. Eventually he hopes to pursue a career in the entertainment industry working to make other people smile, laugh and feel a little happier.
Although they have only been working for a short time, both Clayton and Roger have worked hard to embrace the chamber and community. Once finished, the goal is for both men to have a greater understanding of the communications field, as well as a long list of newly learned skills and advice.
Clayton Nickerson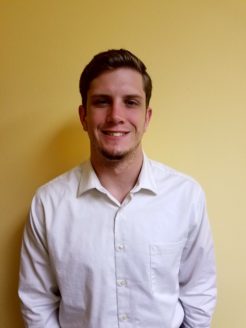 Roger Blake