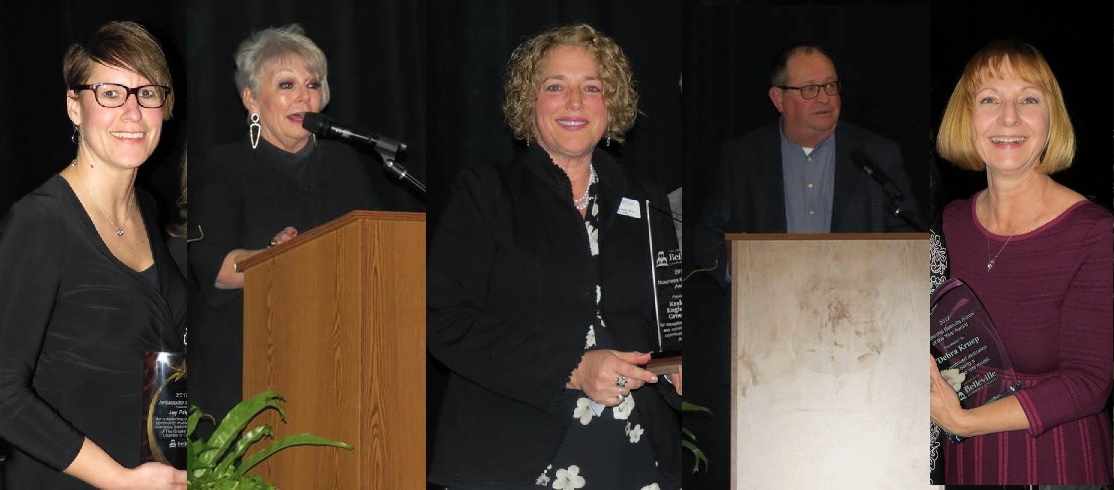 The Greater Belleville Chamber of Commerce awarded five area leaders in the community Thursday, February 1st at their Annual Dinner and Silent Auction held at the St. Clair County Event Center. Joy Prigge (Dieterich Bank), Debra Kruep (Hoernis Autobody), and Patty Gregory (Art on the Square) were awarded individual awards and Kaskaskia Engineering Group, LLC. and Egyptian Workspace Partners were awarded Business Excellence Awards. Prigge was awarded 2017 Ambassador of the Year, Kruep was named the 2017 Leadership Belleville Alumni Award and Gregory received the 2017 Citizen of the Year Award.
Prigge, Vice President of Dieterich Bank and winner of the Ambassador of the Year award, served as Chair of the Ambassador Committee in 2017, coordinated all the Ambassador Luncheons and has volunteered at various Chamber events throughout the year. She has also been a key member the past three years during the Total Resource Campaign.
Kruep is a graduate of the 2010 Leadership Belleville Class and partial owner of Hoernis Autobody. Kruep believes in the philosophy of high-quality repairs, fair treatment to employees and vendors, and exceptional customer service which has made their business one of the largest and most respected collision repair centers in Southern Illinois. She is a life-long Belleville resident, volunteers for many chamber events and helped to mold Leadership Belleville into the class it is today. Kruep started the Gingerbread Cookie walk 10 years ago that now brings 400 people to downtown Belleville every year during the holiday season to showcase the businesses in downtown Belleville.
Gregory, Director for Art on the Square, was honored as Citizen of the Year by Boyer Fire Protection Services. Gregory is known for her outstanding contributions and service to the Belleville community. She created Art on the Square as a way to highlight Belleville where it has continued to grow since it began in 2002. It has been named the #1 Art Show five times since its inception. Patty's dedication to the community shows year around by helping organize events that showcase Belleville including Paint the Town, which was nationally recognized and most recently hosted the open house for the re-dedication of Belleville City Hall. With her years of dedication to the Arts, Belleville, and many other organizations, it is clear to see that her contributions and commitment will provide inspiration to all and make her the epitome of the Greater Belleville Chamber of Commerce's Citizen of the Year.
In addition to the individual awards, Kaskaskia Engineering Group and Egyptian Workspace Partners were presented Business Excellence Awards, the most prestigious award given by the Chamber to business members who best show evidence of success given a company's expansion and financial accomplishments, development and/or utilization of innovative or creative business methods and contributions to community.
Kaskaskia Engineering Group is a 100% woman-owned engineering, environmental, and contracting firm that was formed August 1, 2006 and was presented their award by the City of Belleville. Kaskaskia has grown from a two-person firm to 40 employees over the past 11 years and has numerous offices that have expanded across the Midwest. Kaskaskia has always been an active member in the community as well. Their employees serve on many local boards, volunteer during local festivals and have partnered with Henry Raab School to provide mentoring to elementary students. Kaskaskia's notable projects include design and construction inspection on the New Mississippi River Bridge, environmental services for the Chicago to St. Louis High Speed Rail project, civil site design on the Belleville Police Station and City Hall, planning services for the Illinois Long Range State Transportation Plan, transportation planning and design for the new Rieder Road interchange at Scott Airforce Base, and civil site design and retaining wall construction at the nearly completed Belleville Hofbrauhaus.
Egyptian Workspace Partners was the second business to be presented a Business Excellence Award by Memorial Regional Health Services. Egyptian Workspace Partners demonstrates innovated thinking to adapt to market needs and a commitment to Belleville and their employees. They were founded in 1880 as Winkler & Schrimer. After 50 years of business, the Weingarten family bought out W&S and renamed it to Egyptian Stationery. The Baltz family purchased Egyptian in 1965 and generations of Baltz remain active at Egyptian and in the community to this day. With their visionary thinking and working with the next generation, Egyptian Stationery had the foresight to see changes in the marketplace and they quickly adapted their business plans to meet these changes. In 2017 they changed their name to Egyptian Workspace Partners to reflect this change. Today Kevin Baltz and his team continue to find relevance in an ever-changing business climate. Egyptian Workspace partners encourage their employees to become involved in community activities as a way to give back by serving on many local boards and committees or volunteering at local events.
The Great Belleville Chamber of Commerce once again congratulates all of these award winners this year.