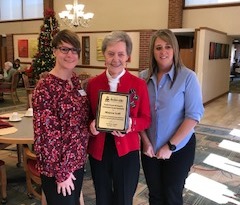 The Ambassador Club of the Greater Belleville Chamber of Commerce is very pleased to honor Sharon Goff with the December 2017 Commitment to Community Award.
Sharon Goff is a dedicated volunteer who shows all of us that perseverance really can make a difference in a community. She volunteers and supports organizations that she is truly passionate about and does not expect any recognition for her endless hours of service.
Sharon has been an Ambassador for the Greater Belleville Chamber of Commerce since 1990 and has been the driving force every December for the collection of school supplies and secret Santa items that are donated to Belleville School District #118. She also makes it a top priority to attend as many ribbon cuttings as possible to lend support to businesses just opening or those that are celebrating an anniversary. Sharon feels it is important to let them know that the community is behind them. She also volunteers at almost every Chamber event including, Business After Hours, Ale Fest and Chili Cook-off. The Chamber knows that if they are ever looking for help, they can always call Sharon and if she's available she will graciously give her time.