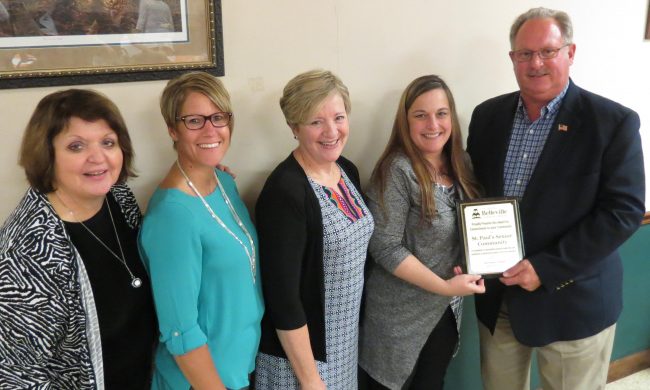 The Chamber's Commitment to Community Award is presented quarterly to a member who demonstrates a commitment to improving the quality of life for residents and/or businesses in the greater Belleville area. The Ambassadors were honored to present this quarter's award St. Paul's Senior Community on Thursday, September 7th, 2017.
St. Paul's Senior Community began its service to the community in 1926 and continues today as a not-for-profit, faith-based Life Plan Retirement Community for active seniors, offering a full spectrum of health services. The community is sponsored by The United Church of Christ and governed by a Board of Directors comprised of individuals from the congregation of St. Paul's Church, Christ Church, Trinity Church, and the local community. In addition, St. Paul's Resident Council holds regular meetings to ensure they are happy with the way their community is managed. They have a voice in many different aspects of their environment such as food and activities, and even have a president and secretary to represent the group.
In 2015, St. Paul's Senior Community completed construction of a new licensed building to complement the apartment residence. The new Senior Community features a state of the art household model of care. The 6 licensed households include memory care, skilled nursing care, assisted living/shelter care, and a dedicated household for short-term Medicare Rehabilitation.
What sets St. Paul's Senior Community apart from other senior communities and nursing facilities is that they provide person-centered care. Their community consists of many different "neighborhoods" which all have their own kitchen and dining rooms, along with a care provider to prepare individualized meals. Residents are also allowed to have pets, which Executive Director Tammy Vonyeast says has a large impact on the overall quality of life for their residents.  Vonyeast also notes that having pets in the facility helps ease the healing process for patients who are undergoing rehabilitation. All of these aspects make the atmosphere at St. Paul's Senior Community more home-like and welcoming for their residents.
St. Paul's Senior Community offers an in-house beautician and has regularly scheduled live music and art projects. They also provide transportation to local bingo's and just about any other place the Resident Council decides they would like to visit.
St. Paul's Senior Community's recent expansion and dedication to providing quality care for their residents demonstrates their commitment to our community. St. Paul's Senior Community has had an inspired vision for the seniors in our community for over 90 years and the Chamber is proud to recognize them with the Commitment to Community Award.