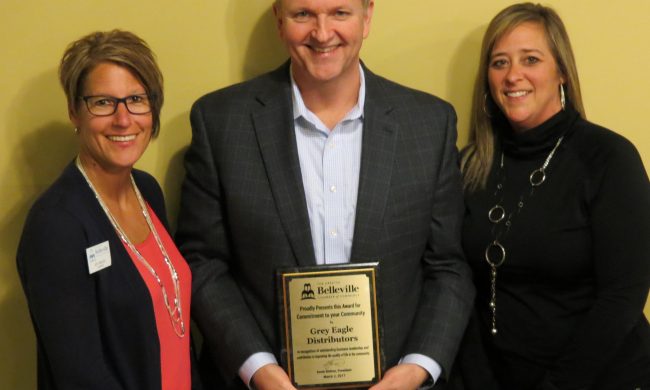 The Commitment to Community Award is presented quarterly to a Chamber Member who demonstrates a commitment to improving the quality of life for residents and/or businesses in the greater Belleville area. The Ambassadors are honored to present this quarter's award to Grey Eagle Distributors.
In December 2012, Grey Eagle Distributors acquired Illinois Distributing Co., an organization with deep roots in the Belleville area. Since the acquisition, the ultimate goal for Grey Eagle has been to continue building upon the legacy of Illinois Distributing who was a great partner to retailers and heavily involved in the community.
Grey Eagle is the exclusive distributor of Anheuser-Busch products and other premium beverages in St. Clair County and several other counties in Illinois and Missouri. Their Illinois distribution center is located in Belleville off Highway 15, where they employ approximately 85 full and part-time employees. They are the largest beer wholesaler in the Midwest and among the upper echelon in the nation, selling nearly ten million cases of beer each year.
Grey Eagle has a special presence in the St. Louis metropolitan area because of their proximity to the home of Anheuser-Busch, the world's largest brewer and one of the nation's most admired companies. Due to their close relationship with Anheuser-Busch, the Grey Eagle family of employees is dedicated to delivering the best service and highest quality products to their customers. Their employees take pride in Grey Eagle's involvement and activity in many charitable organizations in the St. Louis metropolitan community and have the philosophy that if the communities they serve are not succeeding, they are not succeeding.
Grey Eagle's support and investments in their retailers, organizations and festivals in Belleville and the surrounding area demonstrates their commitment to our community.  Grey Eagle is proud to serve Belleville with Anheuser-Busch beer and other premium products, and the Ambassadors are proud to honor them with the Chamber's Commitment to Community Award. Cheers!