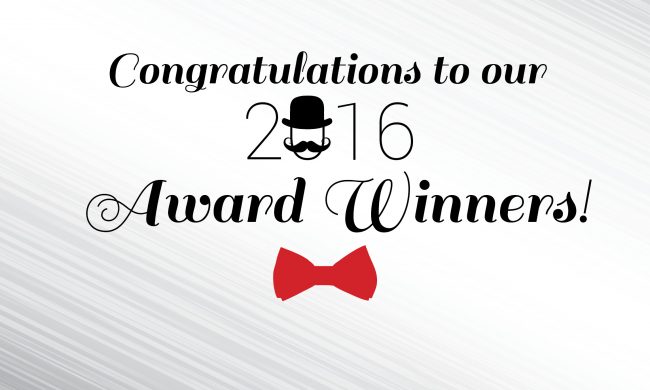 Individual Awards
The Greater Belleville Chamber of Commerce awarded Justin Chapman, Gloria Crowder and Leigh Sindelar with individual awards during the 2017 Annual Dinner & Silent Auction, which took place Thursday, January 26 at Fischer's Restaurant. Justin Chapman took home the 2016 Ambassador of the Year Award; Sindelar was named the 2016 Leadership Belleville Alumni of the Year Award, and Gloria Crowder was named the 2016 Citizen of the Year.
Justin Chapman was named the 2016 Ambassador of the Year. This distinguished award is presented to the Ambassador who has demonstrated a strong commitment to the community and to the Chamber through their volunteerism throughout the year and Justin has done just that. Justin, an Assistant Vice President of Commercial Banking at TheBANK of Edwardsville, served as Chair of the Ambassador Committee in 2016 – dedicating a lot of his time attending ribbon cuttings, coordinating Ambassador Luncheons and volunteering at Chamber events throughout the year.
Leigh Sindelar, Leadership Belleville Class of 04-05, was named the 2016 Leadership Belleville Alumni of the Year. In her position at Hospice of Southern Illinois, Ms. Sindelar educates the community and works with local organizations to improve access and understanding of end-of-life care. She helps ensure that hospice patients and their families' wishes are fulfilled with dignity and respect.
Outside of work, Leigh volunteers for several community organizations and events. She serves on the Art on the Square Committee and the Chamber's Healthcare/Community Service Agencies Committee, and volunteers every year at the Belleville Chili Cook-off. She is always encouraging others to support the Chamber and the Belleville community, and is a huge advocate of shopping local.
Gloria Crowder was named the 2016 Citizen of the Year. For almost a decade, Crowder has played a key role in the creation, the growth, and the community impact of the 17th Street Neighborhood Association. She has been an essential part of neighborhood improvement initiatives, including the association's summer camp, which serves up to 160 elementary students per year, and employs high school students as counselors. For this initiative, she has developed supportive partnerships with Westminster Church, Belleville School District 118, Belleville Americorps, and many other organizations.
Gloria is an inspirational and spiritual leader of community transformation. Her visionary leadership is founded in faith, action, and a strong desire for a community that serves everyone's needs. She regularly sees a lighted path towards potential, rather than focusing on the barriers. A real hallmark of Gloria's leadership is her sense of inclusivity. There is room for everyone on her bus as it moves forward, and she has a remarkable ability to excite and empower those around her to get the down-to-earth tasks completed. She has truly been a light for our city.
2016 Business Excellence Awards
Peace by Piece Co. and SCORE of Southwestern Illinois, Branch #423 received the Chamber's 2016 Business Excellence Awards at the Annual Dinner & Silent Auction, held at Fischer's Restaurant on Jan. 26, 2017. The Business Excellence Award, sponsored by Eckert's, Inc. and Memorial Hospital, is the most prestigious award given to a business by the Chamber. It is awarded annually to a nominated Chamber Member who best represents the three criteria on which the award is judged. The three criteria include: evidence of success given company's expansion and financial accomplishments; development and/or utilization of innovative or creative business methods; contributions to the community.
Piece by Peace Co. owners, Christina and Jason Keck, strongly believe in working together with local businesses to promote growth and business retention in downtown Belleville. In fact, they were the driving force behind Belleville Main Street's inaugural Shop Local for Schools program which launched in 2016. Their commitment to their employees and their ability to keep up with the demands of their clientele and the community are the reason they have experienced such growth over the past seven years. The company also benefits from the uses of creative advertising on social media and a variety of special in-store events such as Moms and Mimosas, Deer Widow Weekend and seasonal open houses.
This year, a mobile fashion truck evolved from Peace by Piece Co. Their "gypsy sister", appropriately named Evolution of pxp, has its own line of unique products. Offering another level of style, the Evolution Fashion Truck carries gift items including candles, mugs and cards and has made appearances at several locations including Eckert's, Grappa Growlers, Scott Air Force base and area farmer's markets.
SCORE of Southwestern Illinois, Branch #423 has counseled numerous businesses in the greater Belleville area. They were recently highlighted by the Illinois Business Journal for their help with the opening of Center Stage Dance Apparel & Costume House in Belleville.
In 2016, SCORE Branch #423 teamed up with local businesses and organizations to host a variety of workshops. These workshops included, "Simple Steps to Starting a Business in Illinois," a digital media workshop at Lindenwood University-Belleville, and an all day workshop for small businesses with several area Chamber of Commerce Directors as guest speakers during Small Business Week. SCORE also collaborated with regional partners to help assist numerous small businesses in the greater Belleville area. This includes, but is not limited to: business incubators, SBDC, and SCORE St. Louis.