Home-Brite Ace Hardware honored with Commitment to Community Award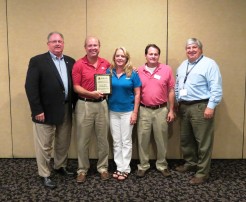 The Ambassador Club's Commitment to Community Award is presented quarterly to a Chamber member who demonstrates commitment to improving the quality of life for residents and/or businesses in the greater Belleville area. The Ambassador Club is proud to present this quarter's award to Home-Brite Ace Hardware.
In 1941, Arthur and Lillian Reinbold, opened their hardware store, Home Brite Company, on North Illinois Street. After a few years of operating in the business that now houses the Belleville Barber College, the Reinbolds decided to move their company across the street to 400 North Illinois Street, where it continues to operate today.
Young Lyle Rowden, the Reinbold's grandson, started to work at the store in 1975. By this time, the store had established a reputation as a mainstay in the downtown Belleville commercial landscape. Rowden continued to work hard and made it a point to learn as much as possible and build quality relationships with his coworkers. In 1986, Arthur Reinbold passed away and Rowden's coworkers were quick to become his employees as he found himself in charge of the business. Due to the rapport he had established with everyone, the staff did everything they could to help him through the transition, even though at 24 years old, he was considerably younger than most of them.
As time went on, changes were made. "When I took over, we didn't even have computers" remembers Rowden. His wife Jo, who had previously written software for a living, helped to pull the company into the computer age. Together, they worked to automate inventory, point of sale, accounts receivable and accounts payable, making their operations more efficient.
In 1986 Rowden began the process of turning Home-Brite into an Ace Hardware franchise. Along with name recognition, franchises enjoy the collective buying power that allows them to carry well-known brands such as Craftsman tools and Valspar paint. The affiliation with Ace Hardware also allows Home-Brite to compete on pricing and participate in numerous promotions throughout the year.
Rowden meets with other local Ace Hardware owners each month to exchange ideas and collaborate on supporting the community. This year, they have set a goal of raising $55,000 for Children's Miracle Network; 100% of the money will go directly to St. Louis Children's Hospital and SSM Cardinal Glennon Children's Medical Center to fund life-saving technology and treatment for our local kids.
Next year Home-Brite Ace Hardware will embark on its 75th year in business; a true sign of their dedication to continuing to serve the Belleville Community. Their continued support makes them a quality candidate for this quarter's Commitment to Community Award.
Rowden looks forward to what lies ahead. "We are here to stay," he says. "As long as we continue to do our job – operating a clean, organized, well stocked, competitively priced store – customers will keep coming back."