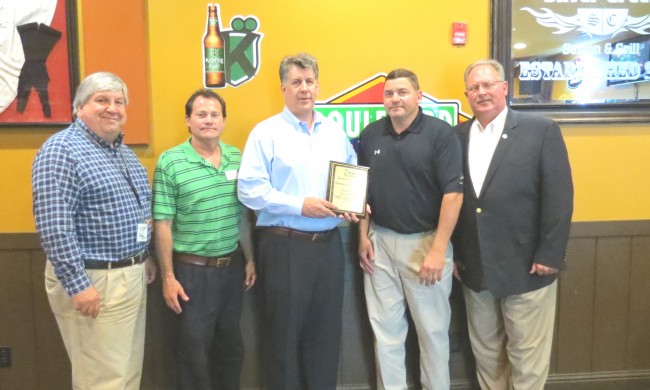 The Ambassador Club awarded Robert 'Chick' Fritz Distributing their quarterly Commitment to Community Award. John Wunderlich, Ambassador Club Chairman, presented the award to Robert G. Fritz Jr., Robert 'Chick' Fritz Distributing, at the Ambassador Club's monthly luncheon meeting.
Started by a young Chick Fritz on July 1, 1947 in Mascoutah, Illinois, Robert 'Chick' Fritz Distributing has made it part of their business model to give back to the community. Following the passing of his employer, Chick purchased Schopp Distributing and was ready to open the type of distributorship he had envisioned, providing friendly, reliable service. For almost 68 years, Robert 'Chick' Fritz Distributing has continued to carry out their founder's vision.
In the early days of Chick Fritz Distributing, many retailers and restaurants used non-electric ice boxes. Knowing this, Chick Fritz and his crew delivered ice blocks with their beer to maintain the quality of the beer along with other foods. As the use of modern appliances spread across the region, ice block deliveries were no longer needed and the expansion of microbreweries emerged, changing the beer industry. For the next 30 years, a series of mergers and buyouts would result in the expansion of Chick Fritz Distributing from serving the local area to other communities in St. Clair County as well as Monroe and Randolph Counties.
In 1957, Robert 'Chick' Fritz Distributing added Miller Brewing Company products to their portfolio. Throughout the 1970's and beyond, new and unique beers were introduced, including Miller Lite in 1970, along with Coors in 1985. With the launch of Coors in Illinois, Robert 'Chick' Fritz Distributing was awarded the Coors Brewing franchise, which allowed the distributor to reach an impressive milestone of one million cases delivered annually in 1986.
Robert 'Chick' Fritz Distributing has continued to grow and is the largest beer distributor in Southern Illinois. They have won several national awards including the MillerCoors President's Award and Heineken's Red Star Award. Distributing a variety of products to communities all over Southern Illinois including the Springfield region, they continue to provide service and pride themselves on remaining "Your Friendly Distributor."
In 1972 they made their move to Belleville and started to become more involved. Some of their contributions include raising money for repairs on the Veterans Memorial Fountain, being one of the forces working with the Hibernian St. Patrick's Day Parade, contributing during the yearlong Belleville Bicentennial Celebration, being a longtime supporter of Art on the Square, working with Belleville Main Street to help promote Brew & Que, and supporting other fundraising events. Their continued support makes them a quality candidate for this quarter's Commitment to Community Award.