Belle-Scott Committee
The Belle-Scott Committee has been in existence since 1950 working to promote good relations between Belleville and Scott Air Force Base. The Committee evolved from the "Belleville Plan" which was created in 1950 by Belleville Mayor H.V. Calhoun, Major General Robert W. Harper, Commander of the Air Training Command located at Scott Air Force Base, and Colonel George W. Pardy, Commanding Officer of Scott Air Force Base.
The Belleville Plan was designed to improve relationships between Scott Air Force Base and the citizens of Belleville. The plan was announced at the First G.I. Pal Dinner (later known as the Belle-Scott Enlisted Dinner) which was held November 29, 1950 at the U.S.O. Canteen in Belleville.  The list of entertainers included actors Clayton Moore (Lone Ranger) and Jay Silverheels (Tonto), Lincoln Perry (Stepin Fetchit), Martha Raye, Griff Williams, and Charlotte Peters. All these entertainers came to honor and pay tribute to the service men and women.  Other notable entertainers in the early years of the event included Marian Anderson, Vincent Price and Debbie Reynolds.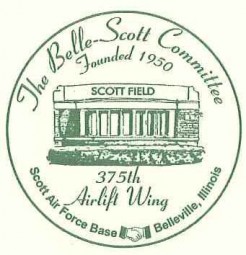 Although today the Enlisted Dinner is the most visible public activity undertaken by the Belle-Scott Committee, much has been accomplished behind the scenes by this group  since its inception. The work of the Belle-Scott Committee continues with new ideas and new programs added to those already in place.  These programs and the Belle-Scott Enlisted Dinner provide an opportunity for the citizens of Belleville to show their support and appreciation for the men and women of Scott Air Force Base throughout the year.
---
Please contact the Chamber office for more information about this committee, 618.233.2015.